we believe to put fun in your food is to put fun in your life!
We want to bring colour to your life! And we try our best to do that with our food, creating delicious and weird dishes to chat about, growing our own eatable flowers, or transforming some old classics into more interesting dishes…
BUT we never compromise on taste or quality. We do our best to source everything we can locally (for example, we get all our bread from Nico, the local baker) but we also import the produce we know can't be found here (e.g. good wine). And there is all the food that we make freshly each day, like our homemade yogurt, jams, dips or chutneys.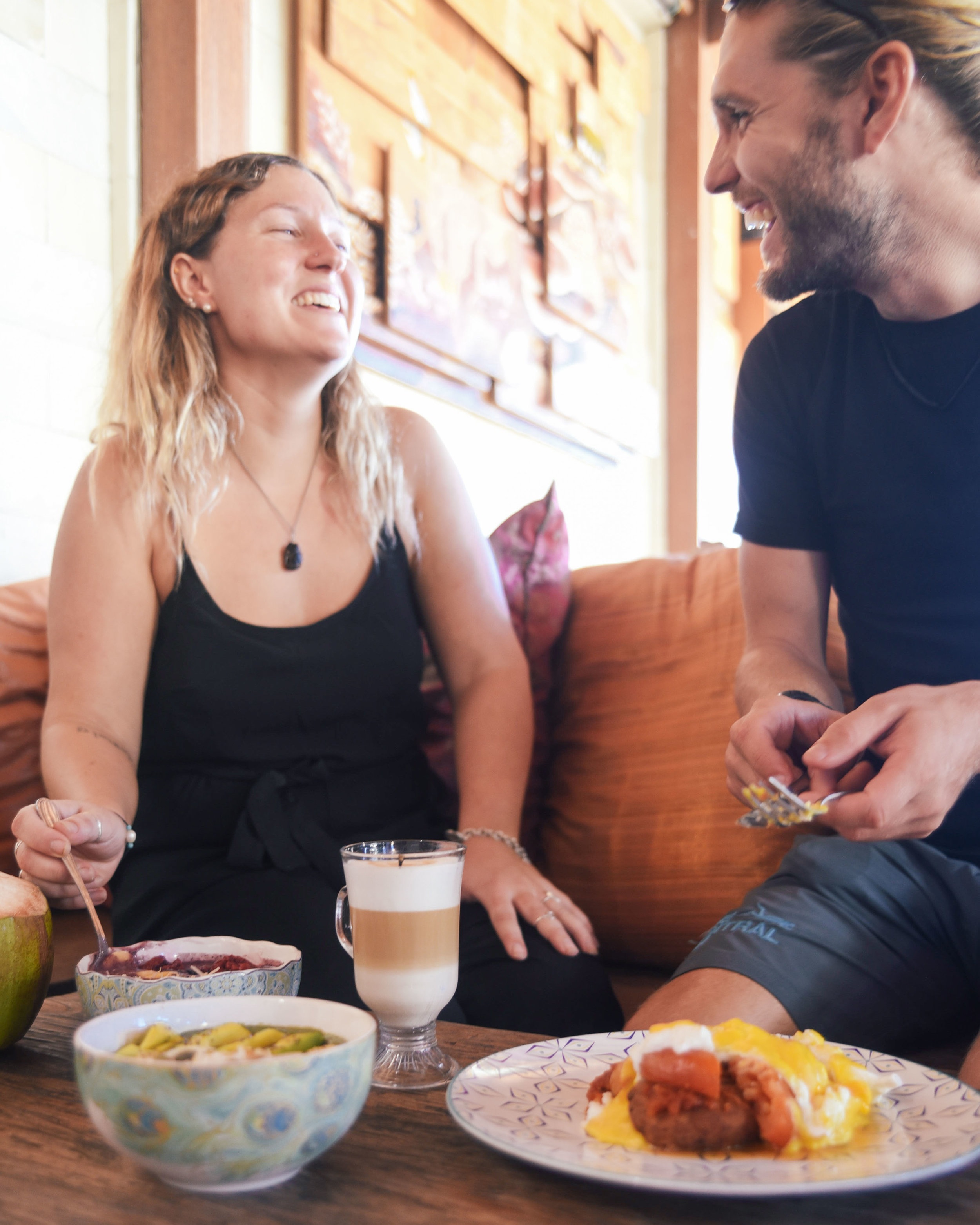 COMMITTED to your decisions, but FLEXIBLE in your approach
We cater well to vegetarians and meat-eaters alike. If you have a specific diet, please do tell us and we'll do our best to help… just keep in mind that being on an island has its challenges so there might be things you'll need to bring with you. Just drop us an email to tell us what you need at info@pesonaresort.com and we can start to make things happen!
We serve breakfast until 3:30pm and start lunch at 10am…. seems confusing? Trust us, you're going to love being able to refuel on a juicy Moroccan burger at 10am or on a healthy smoothie bowl at 3:30pm, especially after a long night out or a beautiful dive.
HOMEMADE GRANOLA WITH YOGURT OR MILK
made with rolled oats, coconut, almonds, cashew nuts, flax seeds, & raisins. served with a small fruit salad & choice of fresh milk, soy milk or yogurt
SEASONAL FRUIT PLATE
a platter of in-season tropical fruit
PORRIDGE WITH HONEY POACHED FRUIT
choose either protein-rich quinoa or classic oats as your porridge base
CINNAMON ROLL WAFFLE
delicious cinnamon swirl waffle drizzled with classic sugar glaze
EGG-IN-THE-HOLE SANDWICH
multigrain toast with runny fried egg & bacon & cheese
ALOO TIKKI BENEDICT
two poached eggs atop indian spiced potato cutlets, wilted spinach, roasted mushrooms & tomatoes, & smothered in hollandaise
SAVORY QUINOA BREAKFAST
tri-coloured quinoa cooked with wilted spinach, roasted tomatoes, & roasted pumpkin. add poached egg & feta for an extra charge
SHAKSHUKA
an exotic middle eastern dish of eggs poached in a spiced sace of tomatoes, peppers, & onions. served on a hot plate & sprinkled with feta & fresh coriander
GREEN GODDESS OMLETTE
classic omelette with spinach & spring onion served with brown toast, butter, & a small fruit salad
P.B.B.G. BAGEL
filling bagel smothered with peanut butter, topped with banana, granola, honey, & basil seeds. served with a small fruit salad
PINK BEACH SMOOTHIE BOWL
with mix berries, banana, pumpkin seeds, coconut flakes, & a drizzle of yoghurt
DRAGON FRUIT SMOOTHIE BOWL
with dragonfruit, strawberry, banana, chia seeds, coconut flakes, & crunchy cashews
BIG BOWL SALAD
mixed greens with cucumber, tomato, capsicum, green beans, carrots, chickpeas, olives, pumpkin seeds, & feta
URAP URAP
indonesian steamed vegetables mixed & seasoned with spiced grated coconut, served with crispy tempe & prawn crackers
PEAS + PESTO
linguine with creamy homemade pesto, peas, & spinach
CARBONARA
linguine in a creamy egg sauce with mushrooms & bacon
AL POMODORO
linguine in a simple sauce of fresh tomatoes, basil & garlic topped with parmesan
BOLOGNESE
classic tomato-beef ragu topped with parmesan
PUMPKIN & PESTO NAAN PIZZA
roasted pumpkin, pesto, feta, on naan topped with pumpkin seeds, balsamic reduction & arugula
BLUEBERRY FETA NAAN PIZZA
a daring mix of caramelized onions, blueberries, feta, mozzarella, almonds & basil
MIE GORENG OR NASI GORENG
indonesian fried rice or noodles with chicken, vegetables, fried egg, & prawn cracker can be made vegetarian
FISH & CHIPS
english classic pub food - fried snapper pieces served with french fries
MIXED SATED
grilled chicken & beef skewers served wtih peanut sauce, mixed vegetables & a side of rice
"NOT TUNA" SANDWICH
chickpea-sunflower "tuna" salad, mixed greens, tomato, onion jam, black olives, pesto
TOASTED SANDWICH
choice of two fillings: cheese, tomato, bacon, sausage, ham, chicken, egg, capsicum, onion, pineapple
HAM & CHEESE PANINI
ham, mozzarella, dijon mustard
ROASTED VEGETABLE PANINI
pesto, hummus, beatroot sauce, grilled mixed vegetables
VEGETARIAN BURGER
red bean burger patty withy a spicy peanut butter sauce, mixed greens, pickles & tomato
ULTIMATE BEEF BURGER
beef patty, mozzarella, fried egg, onion rings, bacon, mayo, mustard, greens, tomato, & onion jam
HUMMUS PLATTER WITH CUT VEGETABLES & NAAN
PAPADOM
fresh lentil cracker
ONION PAKORA
popular indian finger food
ALOO TIKKI
our chef's special potato cutlets with spices
VEGETABLE SAMOSA
flaky pastry filled with savory vegetables
CHICKEN MARTABAK
pan-fried crepe stuff with boneless chicken
LAMB MARTABAK
pan-fried crepe stuff with lamb
CURRY FRIES
our own indian twist on classic poutine: a big bowl of fries smothered in tikka masala sauce & topped with mozzarella cheese
NAAN
flat bread cooked in our traditional indian tandoor oven
BUTTER NAAN
spread with butter
GARLIC NAAN
filled with finely chopped garlic
CHEESE NAAN
filled with mozzarella cheese
KEEMA NAAN
filled with lamb and spices
PESHWARI NAAN
filled with cashews & raisins
SET MENU 1
chicken tikka masala, vegetable samosa, rice, naan, indian chutney
SET MENU 2
mixed vegetable curry, vegetable samosa, rice, naan indian chutney
SET MENU 3
chicken tikka tandoori, vegetable samosa, rice, naan, indian chutney
SET MENU 4
chicken rogan josh, vegetable samosa, rice, naan, indian chutney
SET MENU 5
chicken or vegetarian kati roll, onion pakora, indian chutney
SET MENU 6
roti chenai, curry dipping sauce, vegetable samosa, indian chutney
Non-Veg Curry (served with chicken or upgrade to lamb)
MASALA
cooked in a thick onion-based sauce
VINDALOO
a tomato-based gravy cooked with potatoes and spices
SAAG
spinach, red onion, tomatoes & fresh garlic combined in a thick sauce
GOAN FISH CURRY
fish marinated in lemon and cooked in a rich gravy sauce
KORMA
pieces of meat in a thick & creamy sauce
BUTTER CHICKEN
tandoori chicken in a tomato-based spicy curry sauce, topped with clarified butter
GARLIC CHICKEN
lots of fresh garlic & boneless chicken pieces in a thick sauce
CHICKEN TIKKA MAKHANWALA
tandoori chicken with a sweet, spicy sauce sprinkled with cheese
MHUGLAI CURRY
chicken or lamb in a rich and creamy curry with fragrant spices
CHEF'S SPECIAL CURRY
popular north indian dish in a punjabi sauce
MIXED VEGETABLE CURRY
mixed vegetables cooked in a thick onion based gravy
JEERA ALOO
potatoes cooked with spices, tomatoes & cumin seeds
ALOO GOBI MUTTER
potatoes, cauliflower, & green peas cooked in a special sauce
MUSHROOM MASALA
cooked in a thick gravy with spices, onions, & tomatoes
MUNG DAAL
yellow lentils simmered on a low fire with onions, garlic, green chilies, & tomatoes
DAAL MAKHANI
black lentils cooked gently overnight on charcoal & finished with cream
DAAL FRY
yellow lentils cooked with spices, onions, tomatoes, & chilies
CHLOE MASALA
chickpeas cooked in a semi-dry gravy
SAAG PANEER
fresh home-made indian cheese cooked in a delicious spinach sauce
PANEER MUTTER
paneer, cauliflower & green peas cooked in a special sauce
TANDOOR CHICKEN
marinated in the chef's special yoghurt sauce & cooked in our indian tandoor
CHICKEN TIKKA
boneless chicken marinated in tandoori aromatic spiced yoghurt sauce
FISH TIKKA
boneless snapper marinated overnight in an aromatic spiced yoghurt sauce
VEGETABLE TANDOORI
cauliflower, capsicum, aubergine, & green chili marinated in tandoori sauce
PANEER TIKKA
fresh indian cheese marinated overnight in aromatic spiced yoghurt sauce
PANEER TIKKA HARYALI
fresh indian cheese marinated in a yoghurt sauce with hints of mint
CHICKEN TIKKA KEBAB
served with whole naan, salad, raita, & chutney
CHICKEN
indian burrito, filling marinated in spices & wrapped in a layered paratha bread
VEGETABLE
imported basmati rice with special spices, raisins, & cashews
traditional thin layered pan-fried bread served with a curry dipping sauce
JEERA RICE
with fresh cumin seeds
ONION SALAD
onions, lemon, & chili
CUCUMBER SALAD
cucumber, lemon, & chili
MIXED SALAD
cucumber, tomato, onion, lemon, & chili
RAITA
yoghurt with chilies & special spices
MIXED RAITA
with cucumber, onions, & tomatoes
COCONUT LADOO
indian doughnut
CARROT CAKE
with cream cheese frosting
CHOCOLATE CAKE
topped with caramel corn
MANGO ENERGY BALLS
chia seeds, almonds, mango, coconut, & dates